Welcome!
(If viewing on a mobile device, please use landscape mode for best results !)
UPDATE: conditional offer closed as of April 25, so the boat is no longer available.
Carpe, a 42′ Grand Banks Trawler was built in Hong Kong and the USA in 1970.  She is a classic wooden trawler that has been carefully restored over the past decade.
Table of Contents
---
1. Overall Description and offer
Type: Grand Banks Trawler
Length: 42' LOA, Beam: 14′, Draft: 4′
Displacement: estimated at 15-16 tons / 30,000-32,000 lbs.  
Date built: 1970, Hull number 173
Materials: hull is 1/25″ solid mahogany in excellent condition, fastened throughout with bronze screws.  Structural members are made of yacca, a rot-resistent tropical hardwood.  Decks are 1″ teak.  Superstructure sheathing is 5/8″ marine ply
Engines: twin 120 HP Ford Lehman Diesels.  Estimated hours <5000.  Engines are in good condition and reliable.  Economical cruising at 6-8 knots.  Original manuals available.
Accommodations: Extremely comforable for 2 couples or couple with family, with 2 cabins, 2 heads, plus the settee in the main salon and the upper deck
Builder: Grand Banks / American Marine
Registration:  Formerly a US licensed boat, currently registered nationally with Transport Canada, Port of Registry is Toronto.
Restoration: We assumed ownership in 2010 and have been continually updating the boat since.  Details in section 2 below.
Inventory: See section 4 below for a detailed inventory
Details about Carpe's early history are scarce.  Like all wooden Grand Bank Trawlers of that era, the hull was built in Kowloon Bay, Hong Kong.  She was then shipped to the US where the engines and systems were installed..
We know that she spend years in the NYC area, under two different names, and was brought to Canada in the late 1990s.
She was operated for some years out of Port Credit, west of Toronto.  Sometime in the early 2000s, her then owner apparently lost interest.  When we discovered her, she had been left on the hard in Port Credit for 8 years.  An enterprising former Navy diver rescued her from being chainsawed for the engines.
After a detailed inspection, we concluded that despite some significant issues with the plywood superstructure, the structural members, hull, and system were in surprisingly good condition given her treatment.  After verifying that her engines were working, we took her over.  We started work on April 4, 2010, and to the surprise of the local marina staff (who assumed she was a goner), launched her on June 3, 2010.  In that time period, we:
Replaced 25% of the superstructure sheathing with new marine plywood
Replace 60 linear feet of teak planking.  The rest of the hull was in excellent condition
Recaulked the hull throughout
Cleaned out the fuel tanks
New bottom paint
New topside paint on hull and superstructure
Inspected and serviced all systems
After her initial launch, we motored to Cobourg, and then to Brighton Bay.  She has lived in the area since, alternating among Rice Lake, Lake Ontario, and the Bay of Quinte.  While continuing the restortation, she has enabled us to enjoy cruising expeditions each season including to Georgian Bay up and down the Trent Waterway, multiple cruises in the Bay of Quinte and the 1000 Islands, and a trip up the Rideau Canal.
Over the years since launch, we:
Replaced another 50% of the superstructure sheathing with new marine plywood, for a total of ~75%
Rebedded all of the windows and ports
Removed and rebedded the rub rails
Rebuilt the port engine fuel injection pump, and had the valves serviced on both engines
Rebuilt the port transmission
Upgraded the boat's wiring and electronics, including new depth transponder, Garmin multifunction display, Digital Yachts AIS receiver that relays data over N2K and wifi
Replaced the toilet in the forward head with a new electric toilets
Installed 6″ copper strip at the waterline
Added a second new VHF radio at the upper steering station
Installed new bilge pumps and float switches
Installed new 12 gallon hot water tank, heats from shore power and engine coolant circuit
Installed new high capacity deep cycle gel cell battery banks
Installed new Xantrex smart 3-stage external alternator regulators
Replaced the fuel lift pump on the starboard engine
Replaced the engine room blower fan
Replaced windscreens on the flybridge
Installed a bimini for shade on the upper deck
Removed obselete radar antenna and display unit
Continued removal or treatment of woodwork as necessary
Continue to work on re-installing refinished teak trim pieces
Interior layout, from bow to stern:
Chain locker
Forward cabin, sleeps 2 in V-berth, stowage under
Head to starboard with toilet, sink and full-size shower
Ladder up to main cabin
Main cabin has galley to port forward, steering station to starboard forward
Dining area to starboard, aft
Locker to port, aft, with ladder to aft cabin
Aft cabin has 2 bunks, head with toilet, sink, and shower / tub
Access from aft cabin to aft deck
Ladder to large bridge deck with upper steering station and extensive storage
Large engine space under the main cabin, containing the engines, battery banks, fuel tanks, hot water tank, and holding tank
Large lazarette under the aft deck
Cabin sole: teak
Headroom: > 6′ 2″ throughout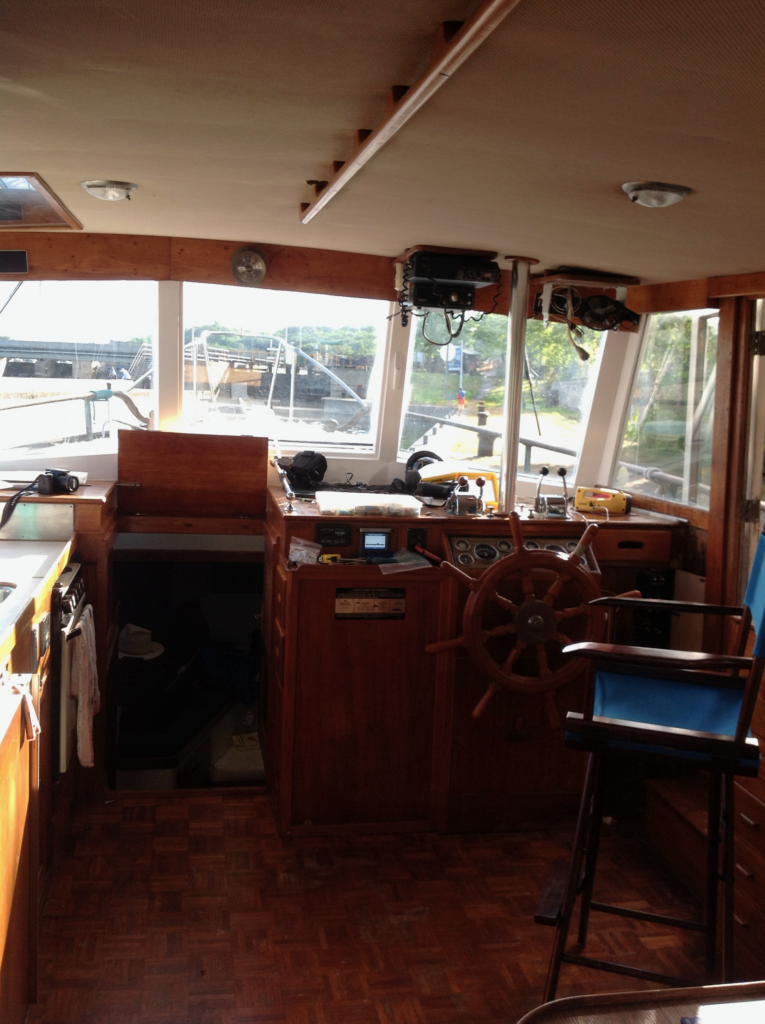 4. Contruction details and inventory
Structural members: yacca, in excellent condition
Planking: 1.25″ mahogany, all but 60 lineal feet on the starboard side is original.
Fastenings: bronze screws.  Inspected in 2010, no sign of corrosion.  Boat has been in fresh water since
Paint:

Topsides and superstructure finished with Brightside 4259 White one-part epoxy. 
Bottom finished with black anti-fouling paint (Bottomkote)
Bootstripe: jade, one-part  epoxy

Engines: Twin 120 HP Ford Lehman 6 cylinder diesels, estimated hours <5000.  Original stainless drip-trays under the engines. These engines are actively supported by American Diesel, a company founded by the original designer of the engines and is carried on by the next generationz in the family.  American Diesel's reputation for sharing knowledge, and providing fast parts service is second to none. We have had excellent advice and parts service from them.
Alternators: twin 60 amp alternators with smart Xantrex 3 stage external regulators
Fuel tanks:  > 600 gallons in 4 tanks (2 X 190, 2 X 130)
Water: 240 gallons in 2 tanks (2 X 120)
12v fresh water pump and accumulator.  Deckwash faucet on aft deck
Holding tank: 30 gallons.  Macerator pump for overboard discharge where legally permitted
Hot water tank: 12 gallons, under galley. 120 V element, also heated by engine coolant loop
Bilge pumps: main 12v  bilge and backup 12v bilge pumps and float switches.  Emergency manual pump (may need new seals, as sometimes hard to prime)
Deck: 1″ teak planking (actual thickness, not nominal)
Spars: Mast and boom.  Boom can be used as derrick for launching dinghy.  Can also carry a steadying sail (sail not included.  Mast currently not installed on boat but is available and is in good condition)
Ground tackle: 2 danforth anchors forward, mixed chain / rope rode on each.  Anchor windless on foredeck.  Additional smaller danforth in lazarette
Upper and lower steering stations have twin shifters, throttles, tachs, oil pressure gauges, coolant temperature gauges, amp / voltage meters
Two VHF radios, older model at lower station, newer unit at upper station.  Loudhailer at lower station
Electric horn
Spotlight at upper station
Garmin GMI 10 multifunction display shows depth and speed.  Capacity to network both 0183 and N2K instruments.
Digital Yacht AIS receiver, multiplexes 0183 and N2K AIS/instrument data to mobile devices over WiFi
Steering: Twin rudders, chain to upper steering station, cable to rudders
Original Ware autopilot: not functional
Ships clock
Barometer
Throughhulls and seacocks: bronze in good condition
Propellers: 3 blade bronze.  2 spare props
AC and DC electrical panels
High capacity Heart inverter / charger, controlled by Xantrex Link 1000 unit
4 gel cell high capacity deep cycle batteries, organized in 2 battery banks.  Switch for parallelling the batteries when charging from shore power
4 burner propane stove and oven, two propane tanks with solenoid and alarm system
120v fridge (can be powered by inverter when underway)
Mooring lines, 8 fenders, spare line, etc. included
Assorted dishes, cutlery, glasses, mugs, etc.
Assorted engine spares, fastenings, and other spare parts
Assorted tools
2 boathooks
Flare kit
Lifering and line
6 PFDs
3 fire extinguishers
Cushions for upper seating, main salon seating
Main salon table is dual purpose, can be lowered to coffee table height
Mattresses for forward and aft cabins (aft cabin mattresses not currently on board)
2 shore power cables and adapters, extension cable, trouble light
Fresh water hose
2 tall and 3 short folding captains chairs
Swim ladder
Carpe is ready to cruise as is. For this season, we are working on: replacing missing cosmetic plugs over various fasteners in the teak deck, replacing the quarter round at the superstructure-deck interface, and various paint and caulking updates, most already complete.
Longer-term, a new owner will need to make decisions about the following (none of which affect enjoyment of the boat):
The original Onan diesel generator turns over but does not run and will need to be rebuilt
Adding an additional navigation display on the upper deck.  Depth/speed is available at the lower station
Tachometer guages or senders need service, or switch to alternator-driven tachs
The original autopilot (which uses pre-transistor vacuum tube technology) is not working.  The steering motor works and could be retrofitted with new electronics
All of the original teak trim pieces are available, but some have not yet been reinstalled since replacing much of the superstructure sheathing
There are a few small holes and stains in the head-liner
Some cosmetic repairs are needed on the cabin doors
Some of the varnish on the cabin soles should be renewed
Small lexan sheet protecting the upper engine instruments is cloudy and should be replaced
There are 4 cracks in windows that will ultimately need replacement
Electric toilet in aft head needs repair or replacement
Galley blower fan needs replacement
6. Optional equipment
Optional equipment includes:
7.5′ fibreglas dinghy ($500)
Ice-eater device if you wish to store the boat in-water over the winter ($500)
Additional interior photos
Forward cabin
Forward head
Aft cabin
Aft cabin
Aft head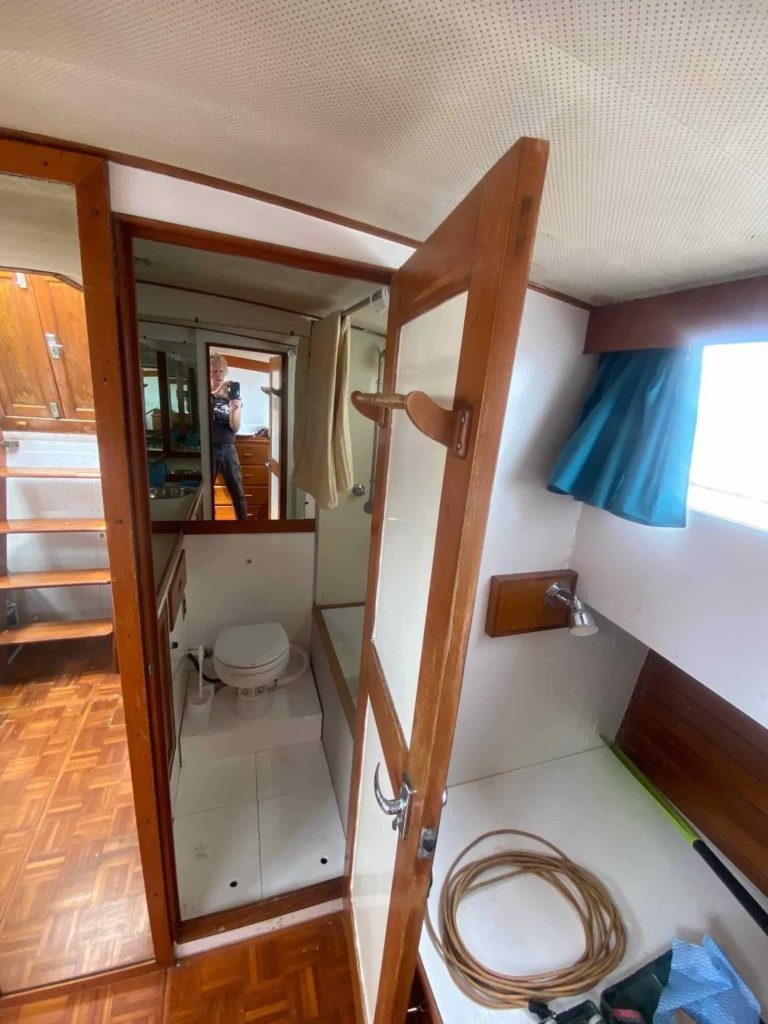 Aft head detail
Looking forward from aft cabin
Looking aft to entrance to rear cabin
Galley
Galley
Main salon, port side
Main salon table (dual height, converts to coffee table)
Main salon looking forward
Helm position
Fibreglas dinghy (available if desired, not included in vessel price)
E&OE.  Copyright, 2020.  All Rights Reserved